Another year, another Loolapaloosa World Finals has come to an end and another Grand Slam World Champion has been crowned. Now into its 4th year Loolapaloosa, held in Milan, Italy, the Loolapaloosa Grand Finals is the largest flair bartending competition in Italy. As the WFA Grand Slam leaderboard runs from Jan-Dec each year, Loolapaloosa is always the final WFA Grand Slam of the year and naturally the club where the competition is held was packed out with flair enthusiasts, industry professionals and a fair amount of people new to flair bartending, intrigued by what they have heard…
And the Grand Slam winner is…
So our winning bartender and newly crowned Grand Slam World Champion is none other than Romania's very own Luca Valentin! Luca takes 1st place at the Loolapaloosa Grand Finals following on from a 1st place finish at the Roadhouse World Finals in London last month. Following wins at both competitions and holding top spot on the WFA leaderboard, Luca is now the World Champion Flair Bartender and the Grand Slam World Champion for 2016 – quite the year! Congratulations to Luca on another win and another title, there can only be more to come in 2017.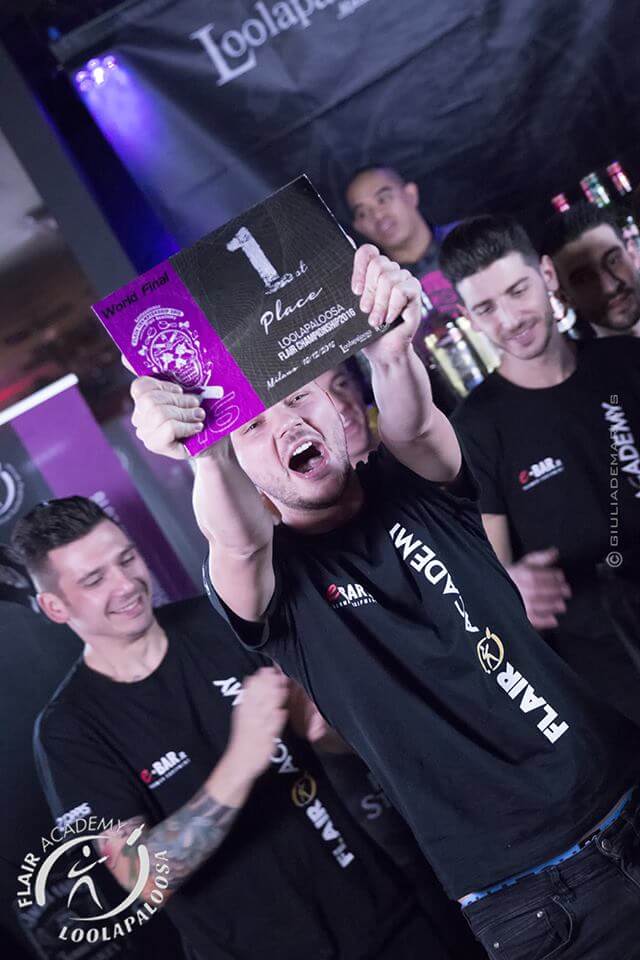 You can see the final standings from the Loolapaloosa Finals below:
Luca Valentin
Deniss Trifanovs
Slava Beljakov

Roman Zapata

Giorgio Chiarello

Matteo Melara

Vitaly Kolpin

Aless Pellejero

Cristian Balta

Giorgio Facchinetti
Judges thoughts…
We caught up with one of the judges for the Loolapaloosa Finals and WFA director, Tom Dyer, on his thoughts on this year's competition, the winning performance and more: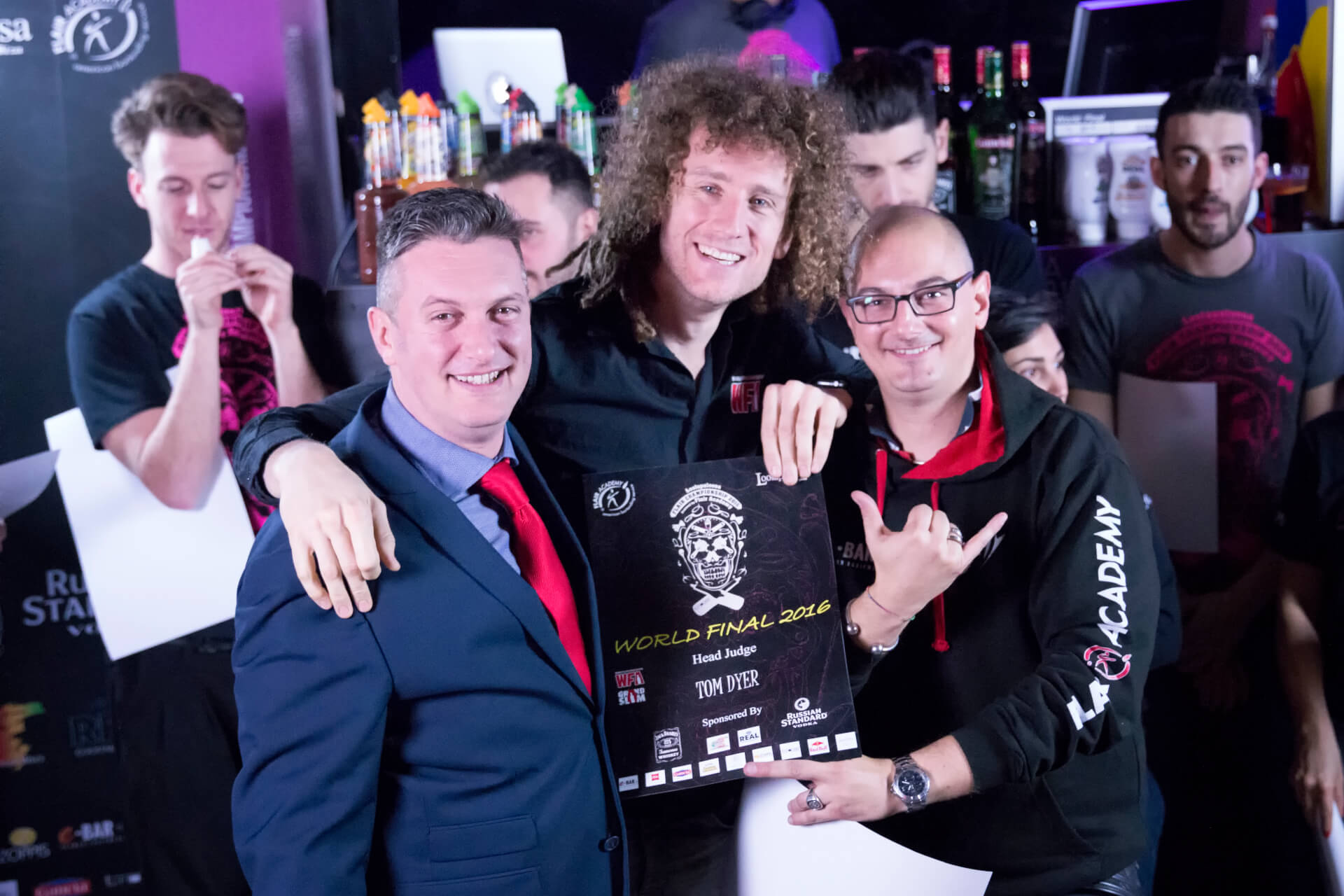 "Overall the competition was very well organised and all the judges and competitors were very happy with how it went, there were many smiling faces. All the competitors provided good feedback on the competition, which is always great to see and hear. Loolapaloosa was packed full of people as well, so I can only assume everyone had a great time!".
The finals of the competition as we covered in our introductory article on Loolapaloosa, were for the top 8 of the 4 qualifying competitions that took place throughout 2016. In the finals there are 2 rounds for the competitors, the qualification round and the final round. The top 10 went through from qualification to the finals, here was the top 10 after qualification:
Giorgio Chiarello
Vitaly Kolpin
Slava Belyakov

Román Zapata

Luca Valentin

Matteo Melara

Deniss Trifanovs

Cristian Balta

Aless Pellejero

Giorgio Facchinetti
Tom's Top Highlights…
"So starting with the top 10 that went through to the finals, I was particularly impressed by all 10 of the flair bartenders that made it into the final 10, everyone performed really well. Although the two that stood out for me the most were Luca and Deniss – both with such impressive performances and both with such unique style".

"There were a good few highlights for me from the top 10 I must say. It was great to see Giorgio Facchinetti break into the top 10 in his first big finals, he is certainly one to watch for the future! I was also very impressed by the routine from Slava Belyakov, in what I think was his first ever perfectly clean routine with 0 drops, Slava has a unique style, which is great, but it would be good to see some different music and a few new moves next time from him. However, for me Slava's cocktail creation was the best! Aless Pellejero did a great job. You could see Aless's routine was very impressive and well thought out and planned – Vitaly on the other hand had big hopes for this competition, however unfortunately it was just not his day, we all have them – it will be good to see how he responds at the next competition.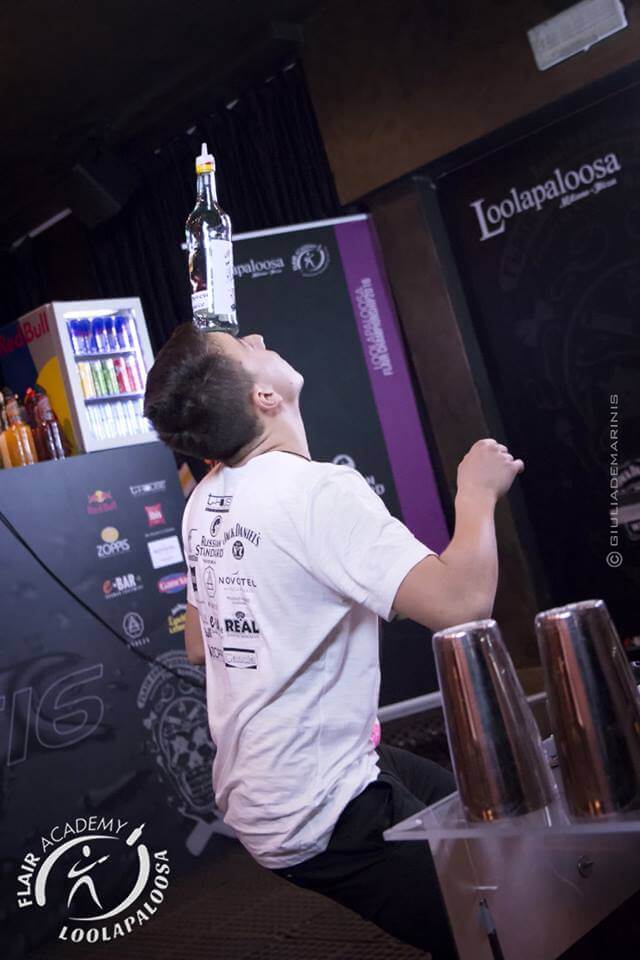 Most memorable moment…
"For me Deniss's routine was the most memorable moment. Deniss just missed out on the top 3 of the Roadhouse World Finals a few weeks before and has been on great form. In the finals, this was probaly the best routine I have ever seen from Deniss to date – unfortunately it was just let down a little bit by his cocktail creation. His routine was definitely the most memorable however, so many big moves, all timed perfectly with the music and completed cleanly. I am still thinking about that performance now!"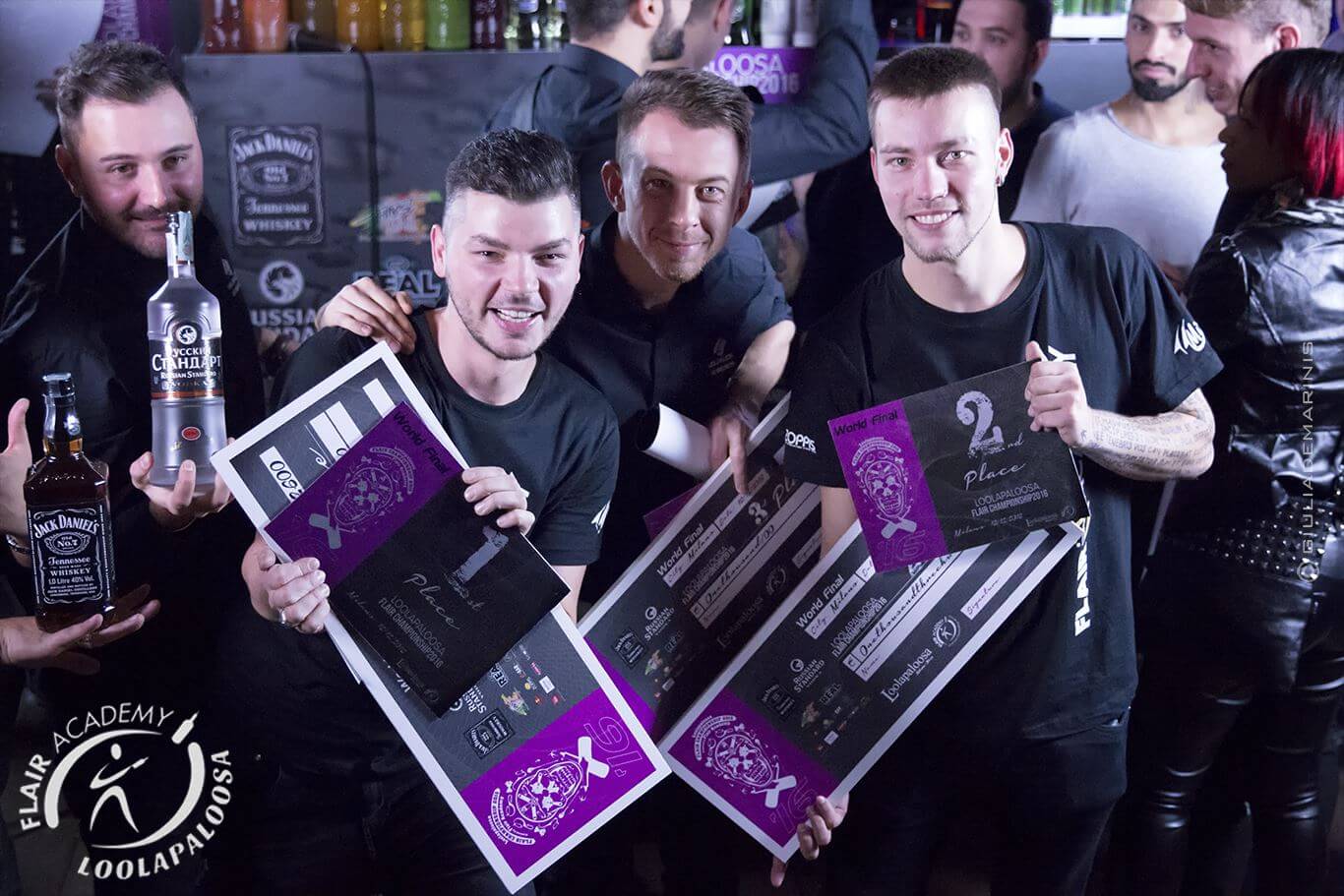 Thoughts on winning routine…
"To be honest I went into this competition mindful of the Roadhouse World Finals, in particular I wanted to see something different from those who were competing in the Loolapaloosa Finals from what they did at the Roadhouse World Finals. This of course applies to Luca Valentin as the winner of the Roadhouse World Finals 2016, and when it came to his Loolapaloosa Finals performance I certainly wasn't disappointed. Luca looked stronger, more powerful, he came with a similar routine but new music, which really helped his performance feel fresh! For me Luca's routines do not usually cause waves or have a massive impact, this routine was different however. As I said, Luca came across a lot more powerful and dynamic – he looked like a Champion."

"I think this is also a good tip for newbies (people new to flair). You need to look and feel like a champion, if you don't believe in yourself how is anyone else supposed to believe in you?"

"His routine was well thought out as they always appear to be and 'Luca Style' was of course in full swing. A great and deserving winner, the only area I would like to see a bit more improvement would be in his working flair. Also he tried some big, new moves at the end that didn't quite come off for him. I am looking forward to seeing him bring and land these new moves in his performances in 2017"