The Roadhouse World Finals is the biggest flair bartending competition of the calendar, each and every year. We are sure most flair bartenders would agree it is the one competition that every flair bartender wants to win at least once, in their career. A tough format and with some of the best judges in the world on the panel, this event is certainly no walk in the park.
If you are in anyway involved in the world of bartending or flair, you will have most likely heard of Marek Posluszny. There are not many competitions, which Marek hasn't won in the 10+ years he has been flair bartending. The Roadhouse World Finals is the last big flair bartending competition for Marek to tick off his list.
In fact very recently Marek was awarded 1st place at the IBA competition in Tokyo and interestingly enough, no flair bartender has ever won the Roadhouse World Finals and the IBA – although he has yet to be crowned champion of the Roadhouse World Finals, he has won the IBA competition three times.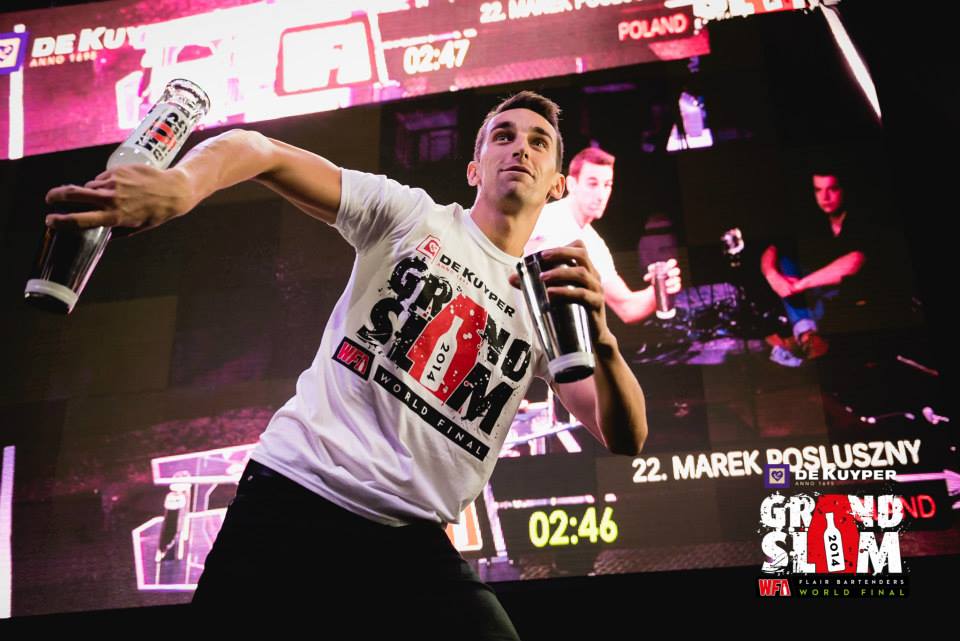 A big dream…
 The Roadhouse World Final means a lot to flair bartenders, for Marek in particular it has always been a big dream of his; a magical competition, with a unique atmosphere and probably the hardest to win, you can see why. With 10 Roadhouse World Finals under his belt this could be the year for Marek.
Having come very close in 2009 with a 3rd place finish, it was expected only to be a matter of time before he was crowned the new champion, however 6 competitions on this has still yet to happen and Marek has yet to be able to improve on 3rd place in this particular competition.
'2014 was a big year for me, it was particularly close: I effectively got the highest score and won, however I made a mistake and didn't pour one of the ingredients into the drink and lost points for this – a silly error, but it ended up costing me the title!'.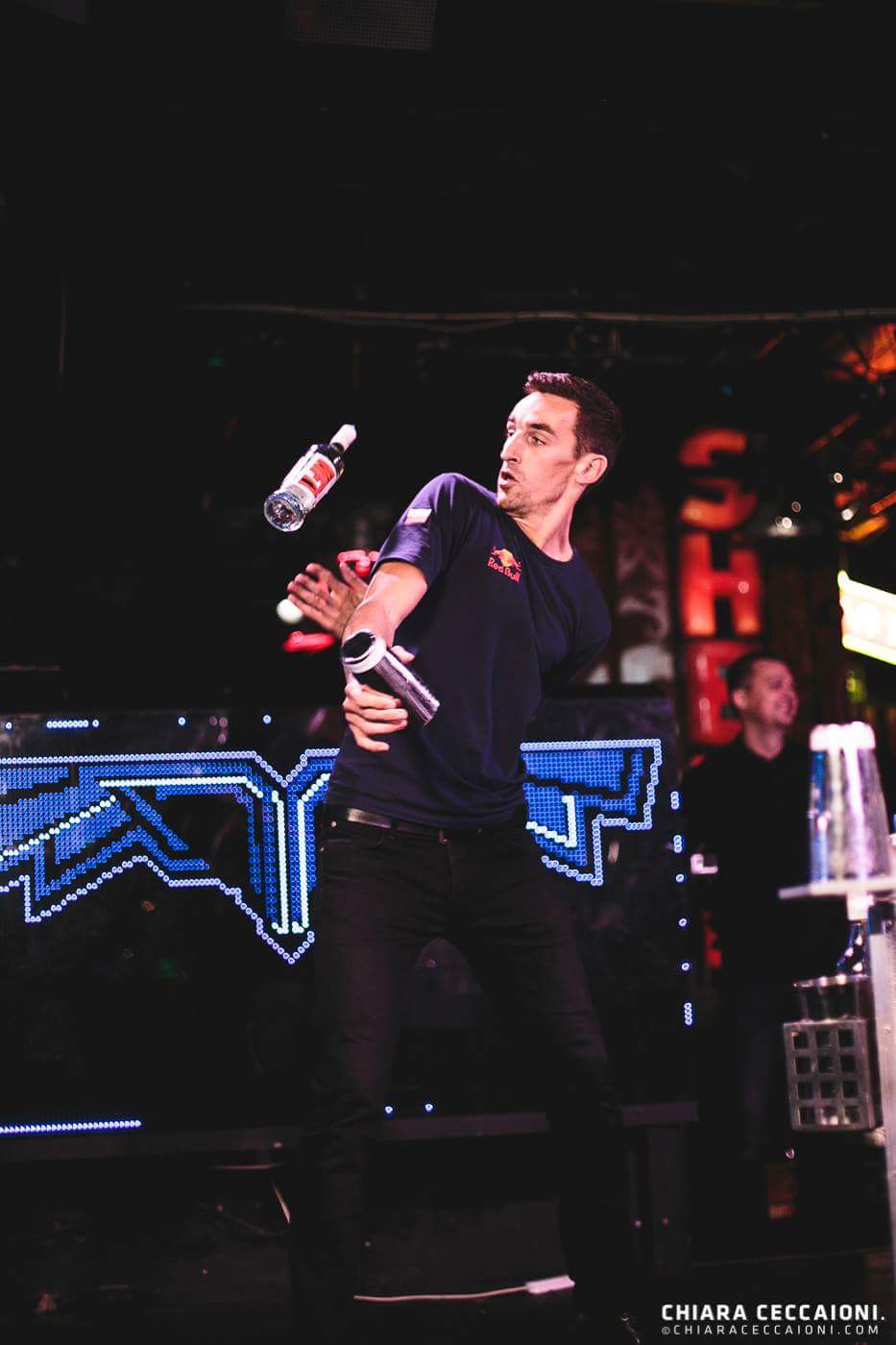 Every year Marek brings something new and special to the Roadhouse World Finals. Whether it is a new move, new choreography, or exemplarily showmanship – he is not satisfied with performing a routine that he may have done in another competition or show.
'For me it is a lot about interaction and creating something that no one else has done before, I have certain moves that I will only do on that stage. I don't want to do the same thing as everyone else, I want to push flair forward…'
Under pressure…
With the emphasis placed on this being the only competition Marek has yet to win and if you combine this with the fact that the Roadhouse World Finals is thought of as the hardest of the competitions to win, pressure and expectation is something that Marek has to deal with in buckets leading up to this competition.
Arguably on fire this year, Marek has already won 7 competitions and is a hot favourite for the Roadhouse World Finals. Tom Dyer (multiple World Champion flair bartender and a director at the WFA) remarks on Marek,
"At this moment in time in the world of Flair Bartending I think Marek is the best, what he brings with his showmanship, his moves, professionalism and stage presence is often unmatched and he would certainly be my favourite for the Roadhouse World Finals this year (2016)".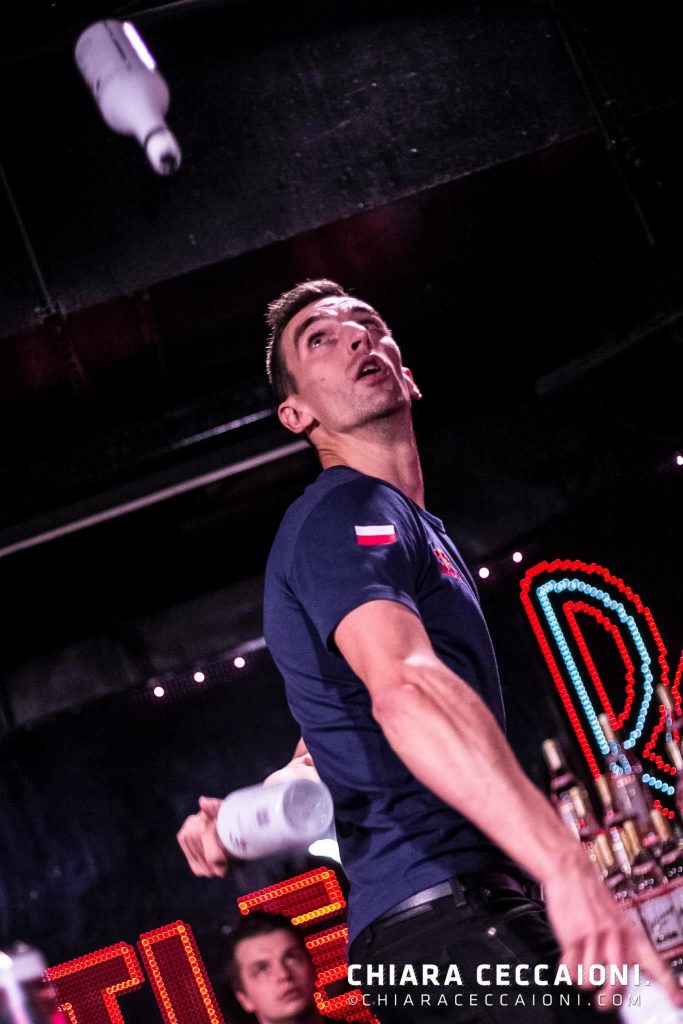 We asked Marek what he thought had caused him problems in the past and halted him in adding this particular trophy to his cabinet.
'For me the problem always seems to arise in the Finals, the nerves start to creep in. I have put myself in a bit of cycle where each year I want to win, and each year I come up to the competition and I think about last year and what went wrong, this gets me nervous for this year and when I am not confident and feel under a lot of pressure – this is when mistakes can happen. Effectively you have 8 minutes out of the whole year to perform, no drops, no mistakes and that's it!".
 It has been suggested that perhaps Marek tries to do too much with this competition, saving special moves only for the Roadhouse stage, ratcheting up the difficulty of the moves and the execution level, showing his immense level of respect for the competition if anything. Marek is however, unwilling to compromise on his style:
'If I win the Roadhouse World Finals, I want to win it in my own way, I don't want to attempt a slightly easier routine, I want to show people something they haven't seen before. But this of course has also been the reason I haven't won in the past'.
The Roadhouse World Finals
Who knows? Perhaps this could be Marek's year and if so would also send him down in history as the first flair bartender to win both the Roadhouse World Finals and the IBA. Whatever happens we wish Marek and all the other competitors the best of luck.
The Roadhouse World Finals will be going down at The Roadhouse in Covent Garden, London. 27th November 5.00pm-11.55pm. Tickets are available from the Facebook page and designmynight.com. The winner will get £10,000 and the crown of Best Flair Bartender in the World. Over 16 years only 9 people have won it, will we have a 10th this year?